(Bloomberg) — President Joe Biden called for Russia's removal from the G-20 group of major economies, and the U.S. and its allies warned Russian leader Vladimir Putin against using biological, chemical or nuclear weapons in Ukraine. 
Ukrainian President Volodymyr Zelenskiy scolded NATO leaders for not responding to his plea for a no-fly zone over his country, and called for more weapons deliveries and tighter sanctions on Russia. 
European Union countries rejected Putin's demand that they pay in rubles for natural gas imports. They're debating another sanctions package that's expected to avoid major new curbs on buying Russian energy, as Austria said it wouldn't support such a measure. Oil and European natural gas prices declined.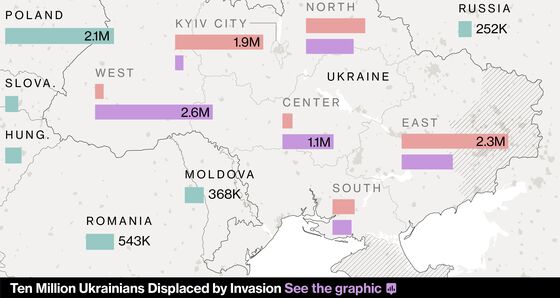 (See RSAN on the Bloomberg Terminal for the Russian Sanctions Dashboard.)
Stocks Steady Amid Oil Dip (3:17 a.m.)
Stocks in Asia were steady Friday as investors weighed the resilience of the global economic recovery to risks from tightening Federal Reserve monetary policy and Russia's military campaign in Ukraine.
Japanese, Chinese and Hong Kong equities fluctuated in relatively narrow ranges. U.S. futures slipped between red and green after technology shares helped the S&P 500 index to close at the highest in more than six weeks.
Treasuries held losses, leaving the U.S. 10-year yield in the vicinity of levels last seen in 2019. Oil retreated as European Union leaders refrained from fresh steps to cut imports of Russian crude.
Sanctioned Mogul's Yacht Heads Home to Russia (3:13 a.m.)
One of the world's biggest super yachts, reportedly owned by sanctioned billionaire Alexey Mordashov, is headed home to Vladivostok, a Russian port city near Japan. 
The 465-foot Nord — a $500 million vessel with two helipads, a cinema and 20 luxury cabins — is currently in the South China Sea. Other Russian-linked yachts are turning off their transponders, leaving Europe and sailing toward the Middle East, where they might get less scrutiny.
China May Send Tech Hardware to Putin, Says EU (2:47 a.m.)
European Union officials suspect that China may be ready to supply semiconductors and other tech hardware to Russia as part of an effort to soften the impact of sanctions imposed over the invasion of Ukraine. 
The EU is concerned that China is ready to help President Vladimir Putin's government weather the economic penalties it has put in place along with the U.S., the U.K. and Japan with particular focus on the availability of high-tech components, according to two people with knowledge of the bloc's internal assessments. 
Mariupol Evacuation Continues, Ukraine Says (10:57 p.m.)
All proposed humanitarian corridors operated successfully on Thursday and more than 3,300 people were able to leave combat areas, according to Ukrainian authorities. That includes more than 2,700 who left the besieged southern port of Mariupol by car. 
The government continues efforts to arrange delivery of humanitarian aid to Mariupol, and evacuation from the city by buses. 
Oil Declines as Traders Await New Energy Measures (9:45 p.m.)
Oil declined as traders weighed the impact of rising trading costs on the major exchanges and sought details about new Russia sanctions — which weren't expected to include an oil ban by the European Union — and a plan to reduce Europe's energy dependence.
"Crude trading is choppy as we await further details from the Nato meeting today and see where Europe's red line will be," said Rebecca Babin, senior energy trader at CIBC Private Wealth Management. "The headline risk remains exceptionally high with liquidity remaining low."
Johnson Says Allies Can Strengthen Ukraine Outside NATO (9:38 p.m.)
U.K. Prime Minister Boris Johnson said that even if Ukraine is unable to join NATO, allies can help it create a deterrent by sending equipment, training and intelligence, giving Ukraininans the "tools to protect themselves." 
Johnson also said he's not optimistic that Putin wants peace, and warned that Russia may bomb Ukraine's cities the way it did in Chechnya during wars fought two decades ago. 
Baltic Leaders Meet with Zelenskiy in Kyiv (7:57 p.m.)
The speakers of the Lithuanian, Estonian and Latvian parliaments visited Kyiv Thursday to meet with Zelenskiy.
"The Ukrainian nation trusts your countries and Poland the most," Zelenskiy told them in his office in the capital city. He said Russian troops deliberately attack civilians and ruin civilian infrastructure as they try to besiege cities, creating humanitarian catastrophes. Ukraine needs air defense systems, jets, armored vehicles and protection for civilians, and it wants tighter sanctions on Russia, the president said.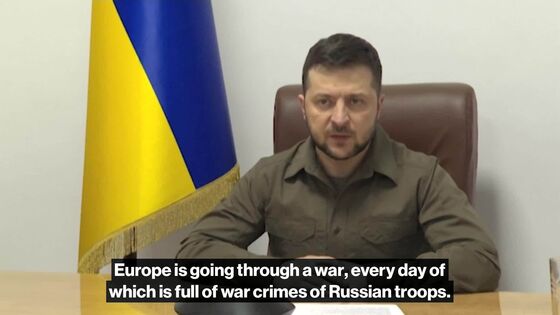 Biden Warns Against Putin Attempts to Break Up NATO (7:39 p.m.)
Biden urged NATO and the European Union to maintain total unanimity in the face of Russia's invasion of Ukraine.
"The single most important thing that we have to do in the west is be united," Biden said Thursday in Brussels at the Europa building, where he was due to meet with European Council President Charles Michel. Putin wants to break up NATO, Biden told reporters. 
EU Leaders to Agree on Modest Tightening of Sanctions (7:02 p.m.)
Leaders of the European Union are expected to back a modest tightening of earlier sanctions against Russia for its invasion of Ukraine, but refrain from imposing major new measures, as countries remain divided on whether to tackle energy supplies.
Under pressure from the U.S. and with Biden in Brussels as their guest, the leaders are likely to approve sanctioning more Russian tycoons and the closing of some loopholes as early as Thursday night, according to EU diplomats. They are expected to avoid a major cut-off of oil and gas purchases despite a push from several countries. Austria said it won't agree to an energy embargo.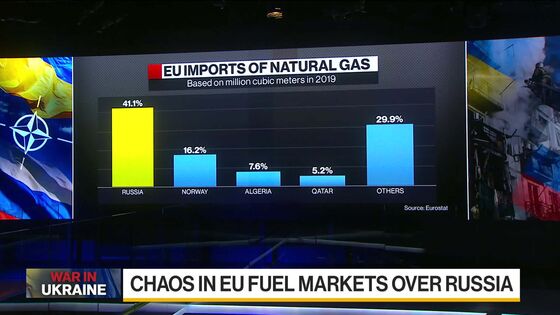 Biden Says to Expect 'Real' Food Shortages (6:57 p.m.)
Biden said that the world will experience food shortages as a result of Russia's invasion of Ukraine, and urged countries to drop trade restrictions that could limit food exports. 
"It's going to be real," Biden said of food shortages at a news conference in Brussels. Ukraine and Russia are both major producers of wheat, in particular, and Kyiv's government has already warned that the country's planting and harvest has been severely disrupted by the war.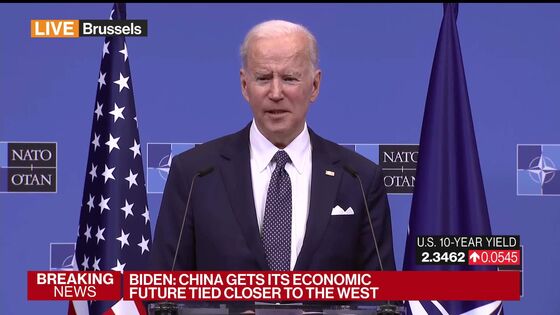 Biden Says He Backs Removing Russia From G-20 (6:40 p.m.)
Russia should be removed from the Group of 20 major economies, Biden said in a news conference after meetings with allies in Brussels. Putin plans to attend the G-20 summit in Indonesia later this year, Russia's envoy to the Southeast Asian country said. 
Biden also said he told China's President Xi Jinping of "significant jeopardy" to his nation's economy if he backed Russia's invasion of Ukraine.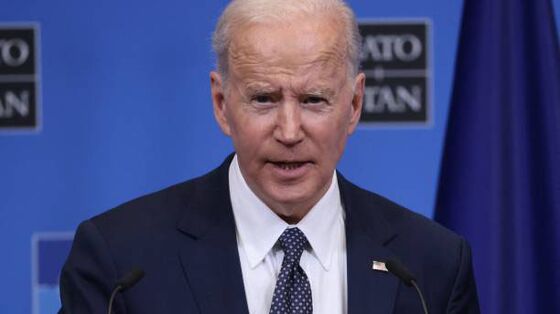 Scholz, Draghi Reject Rubles for Russian Gas (5:30 p.m.)
German Chancellor Olaf Scholz, Italian Premier Mario Draghi and their counterparts in other EU nations told Russia to honor payments for energy exports in the currency stated in the contract, usually U.S. dollars or euros.
Gas prices surged more than 30% after Putin on Wednesday ordered the Russian central bank to develop a mechanism to force some countries to make ruble payments for natural gas within a week. EU leaders say that would be a contract violation.
UN General Assembly Condemns Russia Invasion (5:10 p.m.)
The United Nations General Assembly adopted a resolution calling for an immediate cessation of hostilities in Ukraine while blaming Russia for the humanitarian crisis there. The resolution received 140 votes in favor, 5 votes against, and 38 abstentions.
The vote followed a failed Russian effort at the UN Security Council on Wednesday to pass a resolution on Ukraine that urged humanitarian aid to the country without mentioning Russia's invasion. Only China joined Russia in voting for that resolution, as 13 countries abstained.
Latvian President Calls for Cutting Off Russian Energy Imports (4:45 p.m.)
In principle there is a clear decision we should "cut off" Russian oil and gas deliveries, Latvian President Egils Levits said in an interview with Bloomberg TV. "We should pay for our freedom and our independence."
Paying in dollars or euros is better than "paying in blood," Levits said. Latvia, which gets most of its natural gas from Russia, has gas reserves and can buy LNG to replace Russian gas, he said.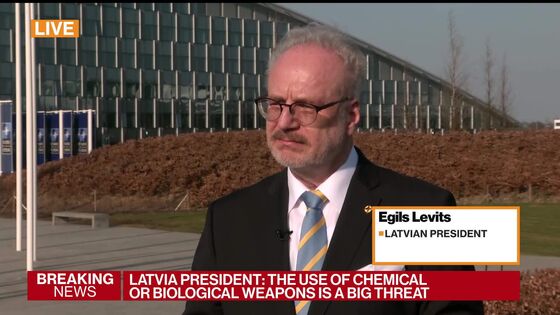 Pentagon Says Other Nations Free to Send Aircraft (3:25 p.m.)
The Biden administration has no objection to other nations sending aircraft to Ukraine even as it continues to believe that Russia would see a U.S. transfer of planes as an escalatory move, Pentagon spokesman John Kirby said.
"The United States has not put a veto on other nations who may want to provide aircraft to the Ukrainian armed forces," Kirby said on Bloomberg Television from the NATO summit in Brussels. "President Zelenskiy says he wants them and individual nations can make those sovereign decisions."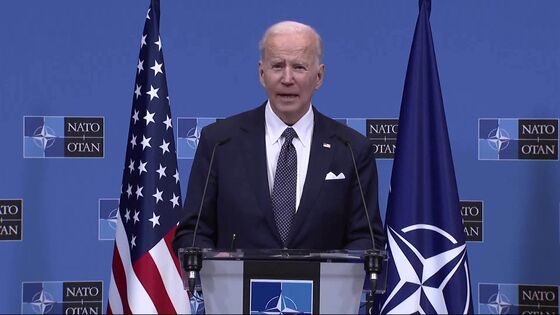 U.S. Sanctions Russian Lawmakers, Defense Sector (2:26 p.m.)
The U.S. announced a new package of sanctions on Russian elites, lawmakers and defense companies. The full blocking sanctions affect more than 400 individuals and entities, including the Duma, Russia's lower house of parliament, and 328 of its members, more than a dozen Russian elites and 48 Russian defense companies.
The sanctions will hit Herman Gref, the head of Russia's Sberbank and adviser to President Vladimir Putin; Russian billionaire Gennady Timchenko, his companies and members; as well as 17 board members of the Russian financial institution Sovcombank. Among the defense companies being sanctioned are Russian Helicopters, Tactical Missiles Corporation, High Precision Systems, NPK Tekhmash OAO and Kronshtadt, the White House said.
U.S. to Welcome Up To 100,000 Ukrainians Fleeing Invasion (2:25 p.m.)
The U.S. will welcome up to 100,000 people fleeing Russian violence in Ukraine, using a variety of legal pathways to allow them to enter the country, a senior Biden administration official said.
Some of those allowed into the country will come as refugees, but the U.S. will permit others to seek parole status or immigrant or non-immigrant visas, the official said, without defining a timeline for the arrivals. The official suggested people fleeing the conflict could come to the U.S. over the course of several years.
NATO Extends Jens Stoltenberg's Term for One Year (2:13 p.m.)
NATO leaders extended the term of Jens Stoltenberg for another year as the alliance's secretary general, leading the response to Russia's invasion of Ukraine. Leaders meeting at NATO headquarters in Brussels agreed that he should remain in the job, even though he had been selected to head Norway's central bank.
U.S., NATO Prepare for Potential Russian Nuclear Incident in Ukraine (1:50 p.m.)
A senior U.S. official said Washington is working with allies on preparation and deterrence postures over Russian weapons of mass destruction, as well as on potential medical and other countermeasures to help Ukraine.
The U.S. warnings show growing concern that Putin will lash out with his military suffering heavy losses. Biden, speaking at the White House Wednesday, said there's "a real threat" that Russia will use chemical weapons.
Russian Defense Minister Reports on Operation at Putin Meeting (1:00 p.m.)
Russian Defense Minister Sergei Shoigu reported to Putin and other top officials on the Ukraine "operation" in a video conference, the Kremlin said.
Shoigu was shown on a video screen in front of Putin in his first public appearance in nearly two weeks, though there was no way to confirm when it took place. Earlier Thursday, Kremlin spokesman Dmitry Peskov said Shoigu was too busy to do media events. State television also showed what it said was video from the meeting, but didn't include any sound.
Separately, the Defense Ministry said a top commander from the Eastern Military District had visited troops near the front lines about 30 km from Kyiv. Ukraine has reported killing a number of senior Russian commanders in the month-long war but Moscow hasn't confirmed that.
German Energy Group Says Gas Supply About to Deteriorate (11:58 a.m.) 
Germany's BDEW energy industry group said it sees "concrete and serious indications" that the country's natural gas-supply situation is about to deteriorate and urged the government to issue the first level of warning in its emergency plan. 
The BDEW, which represents Germany's main gas and electricity suppliers, said it can't rule out disruptions after Russian President Vladimir Putin demanded payment in rubles. 
More Than Half Ukraine's Kids Displaced, UN Says (10:14 a.m.) 
A month of war has displaced 4.3 million Ukrainian children, more than half the country's child population, according to the United Nations global relief organization Unicef.
The agency says 1.8 million children have crossed into neighboring countries as refugees while another 2.5 million have moved within Ukraine.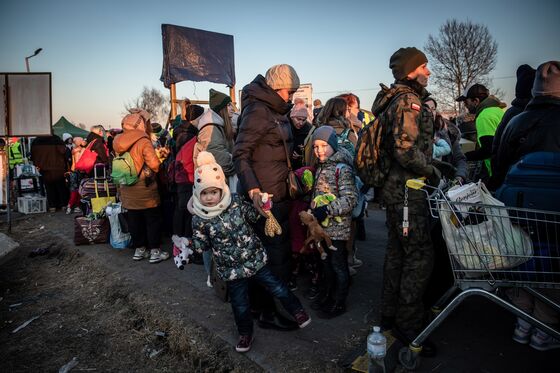 Seventh Journalist Killed in Ukraine (10:05 a.m.) 
A journalist filming damage in Kyiv's Podil district was killed on Wednesday along with a civilian during a rocket strike on a shopping center, according to the Insider, the investigative website she worked for. 
Oksana Baulina left Russia after the previous organization she worked for, the Anti-Corruption Foundation, was listed as an extremist group by Moscow. Her death brings the number of journalists reported to have been killed since Russia's invasion began to seven, according to the Press Emblem Campaign group. Dozens of others have been injured.
NATO Chief Warns Russia Against Chemical Attack (9:55 a.m.) 
The head of NATO warned Russia that any attack with chemical weapons would have far-reaching consequences. 
"Any use of chemical weapons would fundamentally change the nature of the conflict, it would be a blatant violation of international law and it will have widespread and severe consequences," Jens Stoltenberg told reporters as he arrived for the NATO summit in Brussels.
The risk of contamination would mean "a catastrophe for the people of Ukraine but of course the risk is also that we can see the spread of the chemical agents in NATO territory." Slovenian Premier Janez Jansa said member states would "consider some acts" as a direct attack on NATO countries. He didn't elaborate.